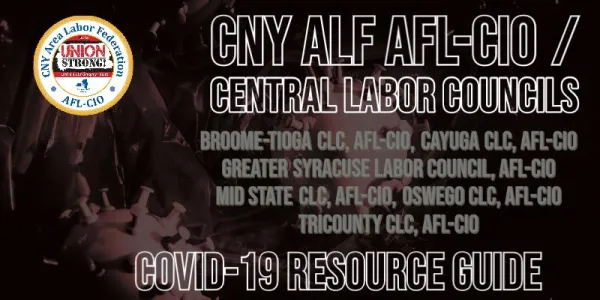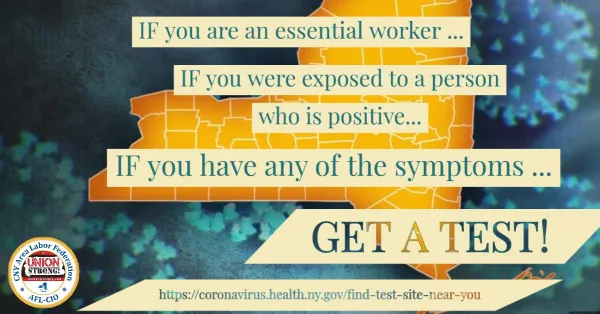 https://coronavirus.health.ny.gov/find-test-site-near-you

Please check back often for updates on the COVID-19 crisis  https://nysaflcio.org/COVID19
President Richard Trumka unveiled the safety conditions working people are demanding before the economy is reopened.
"We must do what the federal government has refused to: protect America's workers," said Trumka. "We should not be focusing on when we can reopen the economy but rather on how we should reopen it to ensure the health and safety of working people."
Safety First: Working People's Plan for Reopening the Economy the Right Way:
Workers must have a say in these decisions at every level: workplace, industry, city, state and federal.

Decisions must be based on worker safety and sound science.

Strong, clear, and enforceable workplace health and safety standards must be in place.

Workers must have stronger protections against retaliation.

There must be a massive increase in adequate levels and types of personal protective equipment for workers currently on the job—and then for those returning to the job.

There must be a massive increase of rapid and reliable coronavirus testing.

The federal government must oversee a system of recording, reporting and tracking worker infections.

Employers, in coordination with local and state public health departments, must trace the contacts of infected workers and remove exposed workers from work with pay and without retaliation.
"Worker safety, economic recovery and public health are intertwined," Trumka said. "Moving too fast or doing too little on one front poses an extreme danger to everyone."
Trumka emphasized how a premature reopening will endanger lives and livelihoods and lead to a rapid subsequent reclosing. 
Listen to a recording of the call.
The federal government has passed four rounds of COVID-19 emergency relief for essential workers as well as those whose lives and livelihoods have been impacted, but much more is required.
Text CARES2 to 877877 to take action! We will connect you with your member of Congress.
​

NYS tracker of cases by county.
Below are links to resources for Workers. Please share with us any other resources you have found which may benefit Working Men & Women.

FOR Clarification OR if You Cannot find the Information You Need, Please Contact the CNY AREA Labor Federation AFL-CIO/Wendy Colucci, Field Coordinator at 315-383-2712 or wendy@cnylabor.org
National Updates and Resources 
https://www.cdc.gov/coronavirus/2019-nCoV/index.html
The COVID-19 pandemic has impacted the lives of millions of working people and our families, and the labor movement has been working tirelessly to limit the impact of this crisis on our health and livelihoods. We worked to make sure the relief packages Congress recently passed put the needs of working families and our communities first.
 To help navigate these new and expanded federal and state benefits and assistance programs, we put together an online resource that has information about unemployment benefits, paid leave, health insurance and community assistance resources.
Find resources about unemployment insurance and other benefits and programs to help workers impacted by COVID-19 here.
This resource contains the most relevant services and programs in your state to help you find the relief you and your family need. Simply select your state and the category of resources you're looking for, and we'll point you to the organizations and agencies that can help. 
These are trying and uncertain times. But the labor movement is here for you. We are your resource to help you and your family through this crisis.
 Find resources about unemployment insurance and other benefits and programs to help workers impacted by COVID-19 here.
 We will continue to improve this online resource to help you find the critical programs and benefits for you and your family.
Team AFL-CIO
NY State Updates and Resources
New York State Official website
https://coronavirus.health.ny.gov/home
State Comptroller Tom DiNapoli resource page
https://osc.state.ny.us/covid-19/financial-toolkit.htm
NYS on PAUSE Extended
All non-essential workers must continue to work from home, and everyone is required to maintain a 6-foot distance in public.
NYS AFL-CIO
We are very fortunate to have a very strong New York State AFL-CIO that is able to continue to work remotely during this crisis. Please use their website as a labor resource during this time.
Local Updates and Resources
http://www.211.org/services/covid19
If you need assistance finding food, paying housing bills, or other essential services, find your local 211 or dial 211 to speak to someone who can help.
If you believe you have been exposed to the virus use this online tool to assess your condition and plan next steps.

https://www.upstate.edu/emergencymgt/trending/coronavirus.php
CNY Area Labor Federation, AFL-CIO Updates and Resources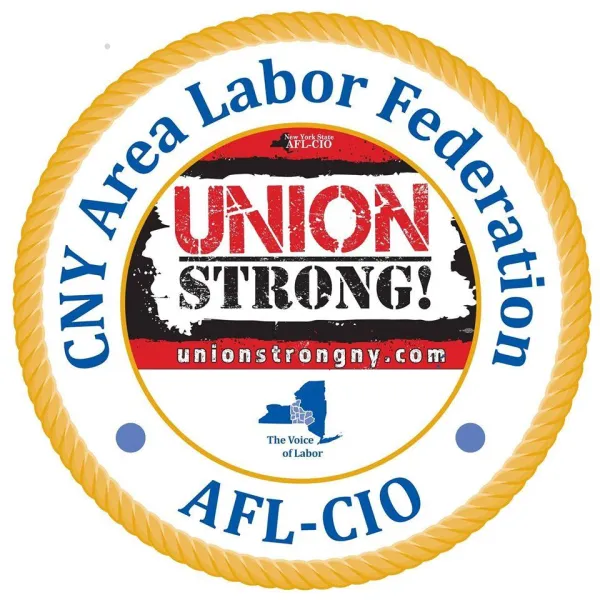 https://www.cnylabor.org/covid-19
Our site will be updates as often as possible with new information.
How can you help?

Donate to Food Bank of CNY 
If you can make a contribution, please write the check to the "Food Bank of CNY" and in the memo section, please write "account #26703". You need to write that on the check so that it goes into our account. Please mail the check to the attention of Helen Hudson, AFL-CIO Community Services Liaison, United Way, 980 James Street, Syracuse, NY 13203.
Food Bank of  CNY 315-437-1899:   
Onondaga                               
Chenango                                                                      
Cayuga                                                    
Cortland                                                                         
Herkimer                                                                        
Jefferson                                                                        
Lewis                                                                                                                       
Madison
Oneida
Oswego
St. Lawrence
Southern Tier Food Bank 607-796-6061   
Broome   
Chemung
Schuyler    
Steuben  
Tioga 
Tompkins           
Delaware Opportunities  607-746-1600
Delaware County Cooperstown Food Pantry  607-547-8902
Otsego County
How to file a complaint
If you work for a non-essential business, you may not be forced to go to the worksite or otherwise threatened if you do not work at a place other than your home.
https://labor.ny.gov/workerprotection/laborstandards/coronavirus-complaints.shtm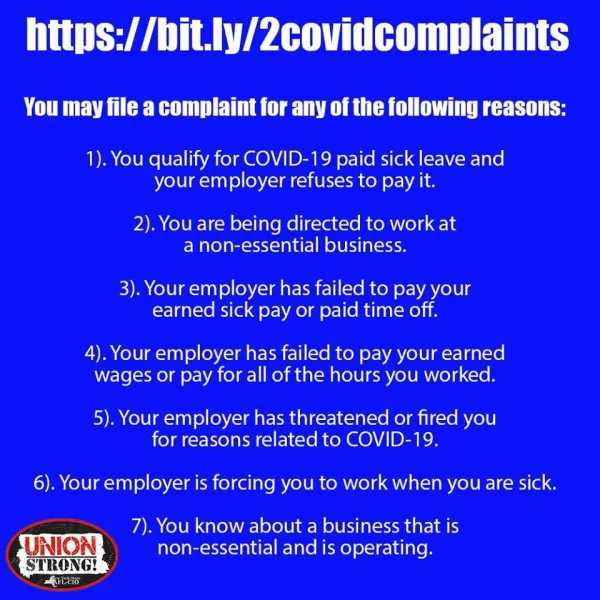 Do you need to host a virtual meeting?
https://zoom.us/ can be used on mobile devices too.
Wendy can assist in getting these setups if you need help. National AFL-CIO will be offering training soon.

We also have access to texting tools to send out messages - If you have a list of cell numbers.
On behalf of the CNY Area Labor Federation, AFL-CIO - we hope that everyone stays SAFE!

Should you need additional resources, please reach out and we will do our best to provide information.

WASH YOUR HANDS!
The Occupational Health Clinic has shared these resource links:
STATISTICS
https://www.worldometers.info/coronavirus/\
https://gisanddata.maps.arcgis.com/apps/opsdashboard/index.html#/bda7594740fd40299423467b48e9ecf6
https://socpa.maps.arcgis.com/apps/opsdashboard/index.html#/7bd218bc8be04b209c0b80a83fc2eba5
https://www.cdc.gov/mmwr/volumes/69/wr/mm6915e6.htm?s_cid=mm6915e6_w
RESOURCES
https://s27147.pcdn.co/wp-content/uploads/Worker-Safety-Health-COVID-19-Rights-Resources-v-2020-04-06.pdf
https://wnycosh.org/app/uploads/2020/04/WNYCOSH-COVID-19-Worker-Benefit-Guidebook-4-13.pdf
https://wnycosh.org/coronavirus/
LABOR ACTION
https://paydayreport.com/covid-19-strike-wave-interactive-map/
https://www.change.org/p/andrew-m-cuomo-new-york-workers-sick-with-covid-19-deserve-workers-compensation
UUP has shared these COVID-19 resources:
https://uupinfo.org/resources/covid19
https://www.aft.org/coronavirus
https://www.nysut.org/news/2020/march/coronavirus-toolkit
http://www.forgivemystudentdebt.org/covid-19-student-borrower-resources/
https://www.who.int/emergencies/diseases/novel-coronavirus-2019